Machine Rollers
Our heavy duty machine rollers or moving skates as some people call them will help you move the heaviest items and equipment. These loop chain dollies make for easy moving and long lasting durability. Use them together with our toe jacks for best results. Also make sure to check out our 3-Point moving systems.
Machine Rollers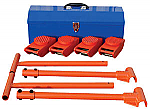 Do Yourself A Favor And Get One Of Handtrucks2go's Best Selling Machine Rollers Today!
Machine rollers, sometimes called moving skates, help you move really heavy items or equipment. They're in the category of dollies, but they're much more powerful. A machine roller, as the name implies, can help move machines. They have the power to move bulky loads of machinery.
The average machine roller is very small. It has a short stature, and this feature enables it to clear areas that have very low clearance so it is able to lift bulky loads. One of the most common attributes of machine rollers is their interchangeable handles when it's necessary to have another machine, vehicle, or object pull the machine roller. The type of handle that you attach to a machine dolly can make the task a lot more or less difficult. A linear handle, for example, can be used for small loads. A pulling bar would be more useful if there is a heavy load and if a forklift is pulling the machine roller. Machine rollers are very versatile in this sense, and the right handle can turn a machine roller into something more or less.
Another great feature of machine rollers is the attachment to other roller machines through adjustable-width connecting bars. The machine roller bar can be adjusted to variable widths, and it can be used to carry equipment that might be wide or narrow in comparison to what the individual machine roller could carry. Machine rollers can sometimes be connected to one another with connecting bars so they can support materials that have very large masses. Machine roller platforms can also be flat or have patterns. The patterns provide for a kind of security for the equipment that is being carried. It is up to the management of the operator to insure that the right platform is used to impart the most safety.
Let's take a look at some machine rollers so you can get a better idea of what their features are.
Hillman 15 Ton 30,000 lb Industrial Roller Kit Diamond Top – This product comes with a five year warranty, and it is very easy to use. This monster has a 30,000 lb/15 ton capacity. This beast can fix your problems with heavy loads. The rollers possess a lowclearing capacity, are easily steerable, and they roll smoothly on concrete floors. They can also carry a ton of weight.
Hillman 8 Ton 16,000 lb Machine Roller Kit – Hillman 8 ton rollers are perfect for heavy equipment transport, installing machinery, and routine maintenance. These kits will help at the job site, factory, or plant. They're very versatile, and they should be included in every tool chest.
You should already know the importance of machine rollers if you're working in any kind of factory or job setting that requires the movement of heavy machinery. If you're making a purchasing decision for your company, then decide on which machine roller you're going to get decidedly. It has to be capable of moving a lot of heavy equipment that is extremely bulky.
Great Selection of Machine Rollers with Discounted Prices at Handtrucks2go.com!