Electric Tuggers
Handtrucks2go is proud to bring you a great selection of Electric Tuggers. These will certainly make your material handling job a whole lot easier. Call us today at (888) 811-5941 for assistance finding the right electric tugger for your application.
Electric Tuggers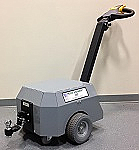 When The Going Gets Tough, Handtrucks2go's Electric Tuggers Are Your Best Bet!
In this category, you'll find the best quality electric tuggers for its price. But before that, you need to know what an electric tugger is and what it's for. It is basically a towing vehicle that hitches up to an independent trailer. If you have something already on wheels and you want a machine to help you pull or push it, then this is the product for you.
These tuggers are vey popular for moving boats in tight spaces such as narrow driveways where moving it with your truck is not possible.
An electric tugger can also hitch and unhitch from your cart providing you with numerous options in dealing with heavy duty tasks. This helps make pulling or tugging things in any direction effortless and easy. Handtruckstogo helps provide you with solutions for safely moving and lifting materials and loads as ergonomic as possible without sacrificing your quality of work, so buy one now!
As mentioned earlier, it can be used in numerous occasions. Battery powered tuggers are used in factories, office complexes, carrying heavy loads, industrial applications, trailer towing, healthcare, manufacturing industries, aircraft towing campuses, and other facilities for a variety of general material handling purposes. At Handtruckstogo, you'll find a wide range of electric tuggers and you can be sure to find the perfect one for your application!
Here at Handtruckstogo, we make sure that we give you diverse products to address different tasks you want to accomplish. We only provide you great products from top manufacturers such as Magliner, EK-TECH, Ekko Lifts and many more. Our wide range of carts and tuggers includes custom and off-the-shelf solutions with a variety of accessories and hitches of your choice.
Electric tuggers are designed to reduce and even prevent strains and pains often associated with manually pushing and pulling heavy carts and equipment and also minimizes the risk of injury. In the working industry, time is money and labor force is power. With that being said, sacrificing your worker's healthcare could be costly and moving around things manually is not cost-effective at all! In relation to that, using these products reduces the overall number of workman's compensation and insurance claims as well as improving overall productivity and eliminates the physical criteria previously considered when screening employees.