Scissor Lift Tables
Handtrucks2go.com is proud to bring to all of our loyal customers our new line of discounted heavy duty mobile scissor lift tables. We only sell products from the best manufacturers and cut down our profits to give you the best deal ever. Need help deciding which table is best for you? Just call one of our knowledgable sales associates who will gladly help you find exactly what you are looking for!
Scissor Lift Tables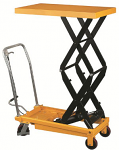 Scissor lift tables really offer you some portability and flexibility in moving, lowering, and raising your loads near your work bench or truck bed. A spring-loaded, easy release lever will easily raise or lift a load to meet the desired height. Casters will also lock for your benefit and safety.
The capacity of an average scissor lift table is astonishingly large, despite its small size. For instance, 700-1,000 lbs. is not uncommon for a small scissor lift table that is 32" x 19.5". It is easy to store your scissor lift table because it's so small. A typical range of raising, lowering, and overall height on a small scissor lift table might be 14", 35", and 37". The typical weight of a scissor lift table is 185 lbs. They can be kind of hefty. Now that you know what a scissor lift table looks like and functions like on a basic level, let's delve into them more deeply.
A scissor lift table can have push button control or foot operated control. In other words, you can get an electric-powered version. This makes it even easier to use. Locked or captured rollers make it much easier for you to avoid injury on these machines. Scissor lift tables can come in all shapes and sizes too. They can look like circles, tables, desks, or podiums. It all depends on what you need to lift. There are different shapes for lift tables so that you can lift different-shaped objects. They are tailored to meet the needs of your business.
Lifting, transporting, and positioning heavy loads can be a pain in the rear without specialized objects to help you get the job done. You don't want to incur risk of injury from lifting or bending. Imagine being able to lift something with just a finger release, no matter what the rate of the load is. That is the beauty of a lift table. The name, scissor lift table, comes from the fact its bars are shaped like scissors when they lift. A folding push handle should also be a part of any scissor lift table you buy so that you can store it easily. Some scissor lift tables have a mechanical manual hand crack for operation. Powder-coated, chip-resistant, and zinc-bonded coating can make your lift table avoid any kind of future wear and tear. These tables are some amazing things, and they can really help you when you're working on something that requires the lowering and raising of heavy objects near your side.
Some scissor lift tables have capacities all the way up to 1,500 lbs. and even more for serious industrial, commercial, manufacturing, factory, and business uses. Common uses for lift tables include vehicle loading and docking, load positioning, and positioning materials in machine feeding applications. Some of the professions that use lift tables include woodworking, warehousing, and heavy machinery use.
Let's take a look at some scissor lift tables so you can get a handle on what they are designed like.
Wesco Fixed Scissor Lift Table – The fixed handle scissor lift table offered by Wesco is a bright yellow color and comes with 5 casters to lock in place for your safety and convenience. The dimensions of the table are 32" x 19.5". It has a lowered height, raised height, and overall height range of 14", 35", and 37". It has a weight of 185 lbs. Those are some basic specs for one of the most common lift tables. It is a convenient, easy design for people that want a decent lift table. You won't have to spend a lot of money on it either.
Folding Handle Scissor Lift Table – A collapsible scissor lift table with a chrome-plated finish is a tantalizing offering. It comes in four different sizes, and it can accommodate weights up to 1,100 lbs.
You want to make sure that you purchase the right scissor lift table for your needs and don't get one that won't match the sizes, capacities, or shapes that you have for it. If you get the wrong lift table, it can be a serious investment that went wrong, and you will have to return it, and then you will have to procure a new one. All of this can be very difficult on a struggling business owner, and it is better to just get a perfect product the first time and not have to worry about it afterward. If you are unable to afford the right lift table, consider waiting to start your business. It is a serious liability to not use a lift table because of all the bending and straining an employee would have to do otherwise.
Browse our Scissor Lift Tables, All at Discount Prices!