Panel Carts
Handtrucks2go.com is the best source for all of your panel cart needs.  If you have a business that moves construction equipment such as boards, a panel cart is the best option for those jobs.  You can buy a board cart at the best price anywhere, on our website. Wesco and Raymond Carts are the manufacturers partnered with us to provide our customers with the perfect panel carts.
Panel Carts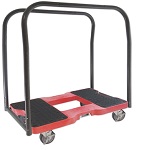 Economy Mattress Cart
Item: SL1500PC4B
Available in Red or Black and 4" or 6" Caster Sizes
Our price: $289.99
The Commercial Panel Cart measures forty eight (48) inches by thirty (30) inches and has a one thousand one hundred (1100) pound capacity.   It can move lumber, dry wall, tools, boxes, equipment, etc.  This platform truck has two swivel casters and two rigid casters for easy mobility.  The wheels are made of molded rubber and do not leave marks on floors.  Businesses such as retail stores, construction companies and professionals can use this cart.
 The heavy duty model of the Wesco Greenline Panel Platform Cart has these features:
Removable plastic basket for carrying tools
Detachable center bar moves bulky items like tables and partitions
Great for moving sheet products, dry wall and plywood 
Phenolic casters – two (2) swivels, two (2) rigid with brakes
Weighs one hundred thirty five (135) pounds with a 4,400 pound capacity
 The Heavy Duty Panel Cart comes with uprights, removable, and it can be used as a platform truck, too.  It is made of twelve gauge steel making it rugged and sturdy for years of top performance.  It, too, is great for moving sheetrock, building materials, furniture, office panels, big screen TVs, doors and other heavy loads.  It is available with two (2) or four (4) upright sides with two (2) or four (4) swivel casters.
 The Tall Sides Platform Cart will move 1100 pounds of boxes or equipment.  It is heavy duty with high handles making it the best choice for commercial use.   The high lattice ends allow for stacking higher loads.  The wheels are eight (8) inches and molded rubber that do not mark floors.  The wrap-around-corner-bumpers are attached to help protect furniture and walls.
 Another cart sold on Handtrucks2go.com is the Mattress Cart.  The extra tall sides makes the cart able to move king size mattresses.  There is a choice of two (2) or four (4) swivel casters. The load capacity is 2,400 pounds.  Please see the chart for all of the details.  Other positives for purchasing one of the panel trucks on this website:
These Panel Carts are made in the United States of America! 
Steel construction, long lasting, sturdy
Removable uprights; varies according to model
Huge load capacity; varies according to model, as well
Easily moves over various floors without marking up those floors
Four are on sale at even lower discounted prices, really!
 Have you found the panel cart right for your business?  Are you ready to order?  Do you need one or several?  Do you need further assistance is placing your order?  Call us.  We can help!
 Handtrucks2go.com has the right piece of moving equipment for your today and for your tomorrow!
Panel carts are a must for anyone in the construction line, making it a sinch to get your boards where you need them quickly and easily. Buying one is an investment that will save you time and prevent back strain. Even if you were always cheap and didn't want to invest in one, you can now buy a board cart at the best price anywhere, right here at Handtrucks2go.com! We carry a wide selection of flat panel carts, so whatever it is you need you are sure to find it.
BEST PRICE GUARANTEE - NO TAX (except NJ)
FREE SHIPPING
Shop at Handtrucks2go.com for the
Best Priced Panel Carts!