Dockplate Selection Guide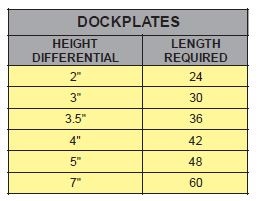 Aluminum dockplates are intended to be used for loading and unloading trucks with hand trucks, manual pallet jacks or electric pallet trucks.
Aluminum dockplates generally have a maximum capacity of just under 5000lbs and are therefore not suitable for forklifts, for those you will need an aluminum or steel dock board.
They are designed to be used in situations where the truck you are unloading is taller than your loading dock,
(not vice versa).
Selecting Your Length
In order to determine the proper length of a dock plate you will require, start off by figuring out your height differential. Height Differential equals:
Height of the highest trailer (TH) minus the dock height (DH) which equals the height differential(H). The chart above will tell you, based on your height differntial, your required length.
TH______________ - DH________________=H_____________
Selecting Your Width
We recommend a dock plate width of at least 12" wider than the overall width of the equipment or pallet used. Wider boards or plates
increase maneuverability and decrease accidents.
Selecting Your Weight Capacity
The minimum weight capacity required is maximum load plus the weight of the euipment. e.g. a pallet jack that weighs 154 lbs and is rated for 5500 lbs, will require a dockplate with a 5654 lb capacity.
Click here to view all of our dock plates.
Also check out our other Selector Guides: