Dumping Hoppers
Browse our broad selection of self dumping hoppers and dump hoppers. Looking to buy a fork lift hopper for your factory? Check out all our different hoppers. We offer portable steel hoppers, open ended hoppers, hoppers to attach to your forklift and more.
Dumping Hoppers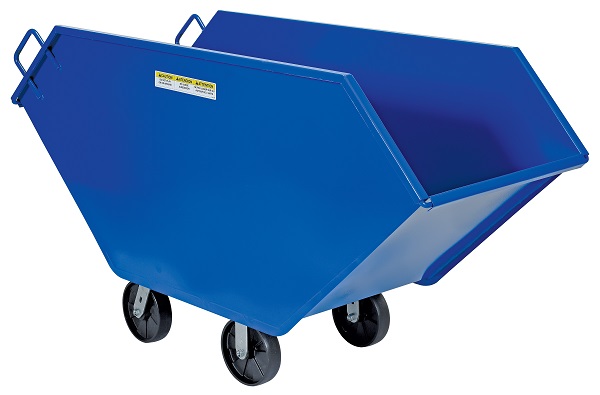 Looking for the best dumping hoppers for the best price? Well look no further, in Handtruckstogo we provide and ensure you that you will get your money's worth. We have a great selection of steel dump hoppers, forklift trash hopper and stainless steel dump hoppers for all of your material handling needs all in great prices. The steel self-dumping hopper, portable steel hoppers and open ended hoppers makes material handling and dumping of bulk materials and waste easy.
These dump hoppers are perfect for containing or temporarily storing materials so that they can be dumped easily. Can be used indifferent kinds of industries or fields such as construction, warehousing, agriculture and other material handling industries that aim to dispose, relocate or even process materials/items. We have hoppers that are:
Attachable to forklifts w/ bumper release that dump when the bumper release is pushed. They usually operate by picking up the raw materials or refuse, automatically returning to an upright position and locking so that they can be reloaded.
Heavy duty hoppers which are mainly used for rough applications where a structural base is needed. Works well for processing, scrap yards, heavy stamping and other heavy duty material handling applications.
Low profile hoppers designed to meet height restrictions that standard hoppers are unable to meet. They are commonly used under work stations, conveyors and presses where space is limited.
These steel dump hoppers are arranged and classified according to their volume capacity, weight capacity, depth or length, width or diameter, and the kind of material they are made of. The versatility, flexibility, durability and dependability of these dumping hoppers make them vital component for any worksite dealing with large, often unmanageable, material. At Nationwide, we feel self-dumping hoppers (also known as forklift hoppers) are the most useful and practical type of hopper.
The dump hoppers found on our website come in a variety of sizes and materials, e.g., a Steel Dump Hopper and Stainless Steel Dump Hopper each offering different load capacities assuring you that you'll find a great selection that meet all your different expectations. There are low profile dump hoppers for applications that require lower access. Steel hoppers are much stronger, more durable and can carry heavier loads as a metal hopper. Some accessories for a self-dumping hopper include lids and casters, which allow portability. Since trash hoppers vary based on how and/or what you want to dump, you should take all of your specific needs into consideration.
Industrial space has a lot of challenges and you want to have the right equipment to make your operation run smoothly. When you are maintaining a plant or trying to keep your job site clean, try our very own self-dumping hopper, portable steel hoppers and open ended hoppers that are engineered for ease of use, durability, safety and economy. We have the toughest, most dependable hoppers on the market. Our hoppers are perfectly balanced to roll forward when loaded, dump completely and automatically return to upright, locked position ready for reloading all available with a variety of options! These affordable and great quality units help collect, store and transport bulk materials, and it's easy for a forklift operator to transport them by sliding forks into their built-in fork pockets.
Manual Steel Hoppers and Self Dumping Harpers for Sale at Handtrucks2go.com with Best Online Pricing!