Drum Trucks
Drum trucks can really help you haul those drums around. They are little miracle devices for employees that would otherwise have to haul, roll, or carry drums by hand. That is just not possible. Well, it is technically possible, but no workers should have to go through that. Drum trucks are relatively inexpensive compared to similar hauling devices so there should be no reason why you don't get these for your employees to make their jobs a lot easier.
Drum Trucks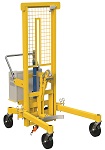 You don't want them to encounter back or shoulder injuries from carrying drums on their own. That could really cost your company a whole lot. Drum trucks are used to move metal and plastic drums. They are also manual devices that differentiates them from the many electric-powered, automated, and machinery-driven devices out there on the marketplace today. Drum trucks are pretty standard devices that anyone can learn how to use.
Let's take a look at some drum trucks so you can get a better understanding of them as unique products.
15BTC model 4 Wheel Ergonomic Drum Truck – This drum truck was built uniquely for ease and comfort. It has an easy swivel caster design that will make it simple turn tight corners and get into small spaces, and it is also easier on your muscles and back, so you can save all your precious strength. There are also nose prongs that make it much easier to lift heavier drums up.
Wesco Drum Truck – Hand Truck Combo 156DH – This drum truck is a steel one, and it can be used like a drum truck or a hand truck. It can hold up to 55 gallon drums. Plus, it can handle over 800 lbs. of cargo. You can do some awesome things with this hand truck.
Open Drum Truck Spill-Less – This drum truck can transport all your drums in a vertical position so you can avoid any spilling. It can handle 55 gallon drums and up to 1,000 lbs. in capacity. It has heavy-duty 5" x 2" polyolefin casters too.
These products are just a small sampling of everything that is available in drum trucks. There are many more you can look into. Each drum truck will have different shapes, load carrying capacities, and dimensions. Choose the one that will suit your purposes best and don't just buy a generic drum truck just because it says drum truck. You might not get the one that can do the job for you. That would end up being a minor waste of money for your company, but it would also take away some of your time for more important things. Begin investigating drum trucks thoroughly before you purchase one.
Some drum trucks are more heavy-duty than others. For example, some have double-column frames that really gives them added oomph. That makes them much sturdier than other drum trucks. Some drum trucks only use single-column frames, for instance. Some have kickstands, and this makes it easier to stand them up. Some offer rear foot bars that can help you break down heavy loads. They are usually about six feet in height.
These drum trucks have very definite and useful purposes. They are not toys. They are not really for home use. They have specific business and commercial use. It is easy to see why these drum trucks are at the top of the food chain as far as devices useful in transporting drums. Even though they're manual, they offer the simplest solution. They are cheap. Anyone can learn to operate them too. Drum trucks don't usually cost that much, even for the heavy-duty ones. Their prices can be about $299.99 or so for a high-quality one.
That is definitely not too much to spend for a serious-quality dump truck. These things are very practical and useful, and they will hold up a long time. You can even purchase a slew of them in different sizes if you are not sure about the kinds of drums you are going to be moving. However, most drums are between 30 and 55 gallons in size, and that is the size that most drum trucks are designed to carry.
If you cannot find a drum truck that meets your needs specifically, consider contacting a drum truck manufacturer and asking them if they know a specialty drum truck manufacturer that can offer you the kind of size drum trucks that you need. Most of the companies will be pretty helpful in helping you locate the right kind of trucks. Your business is important to them.
At Handtrucks2go.com we offer you drum trucks that will provide you with the strength and durability you need to carry your heavy drums. Our drum trucks are comfortable, strong, and affordable!
Not quite what you're looking for? Click here to see all the types of highest quality hand trucks.Handtrucks2go is the best choice for all your moving equipment needs.


Bringing you a great selection of Drum Trucks at Great Prices!